AWS Greengrass in IOT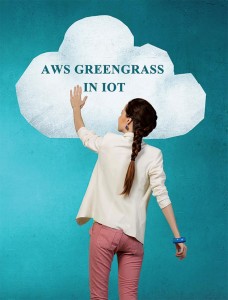 AWS Greengrass is a software that extends AWS cloud capabilities to local devices, making it possible to collect and analyze data closer to the source of information, while also steadily communicating with each other on local networks. More precisely, developers who use AWS Greengrass can author server less code in the cloud and conveniently deploy it to devices for local execution of applications.
When Andy Jassy announced the release of AWS Greengrass in Limited Preview back in November at AWS reinvent 2016, the show floor was vibrant for hours. AWS Greengrass promises to power up what "the Edge" by allowing connected devices to run local compute, messaging, data caching, and synch capabilities securely, even when they are not connected to the Internet.
And while connectivity stands at the core of IoT, if the user is developing or deploying connected devices the user cannot always count on a steady connection. AWS Greengrass also lets one device act as a hub for others, so they can save energy by keeping data connections with a local intranet.
The latest announcement of general availability for AWS Greengrass is a big deal for IoT developers. It is a one of the important new component in the Cloud toolkit that powers IoT, and gives us few things to consider.
KEY TAKEOUT'S FROM AWS GREENGRASS ANNOUNCEMENT
SOFTWARE SKILLS ARE NOW PORTABLE TO IOT
Greengrass moving more of what software developers do to the edge of the network is a major inflection point.
The enormous software developer community is already moving into IoT, and tools like AWS Greengrass will help to rule the space over time. Their familiarity with programming in languages such as Python and writing lambdas to process streaming data in-flow now becomes applicable on the other side of the "choke point."
CONNECTIVITY IS MORE IMPORTANT
When it comes to connectivity, IoT developers need solutions that are simple, reliable, and flexible.
Existing product offerings rarely deliver on all three, and often burden projects with significant commercial and technical constraints even during development and testing. Signing complicated contracts in the prototype stage, when there is no guarantee that devices will even work as designed, can still require a years-long upfront commitment.
EFFICIENCY MATTERS
The communication between a device and the cloud comes with the burden of retransmitting repetitive, undifferentiated data related to security, encryption, and packet headers.
A significant portion of IoT cellular opex is 25% to as much as 75% or more in many cases it is related directly to this overhead or "connectivity tax."
Both are highly preferable for the performance and a cost perspective to transmit only the meaningful data.
THE TOTAL PACKAGE FOR IOT
Device-based environments such as AWS Greengrass promise a new, easier IoT featuring:
Familiar development tools.
Pre-processing on constrained devices.
Decreased cellular data connectivity (or newer variants such as RPMA, NB-IoT, CAT-M).
A flexible, take-what-you-need, pay-as-you-go fee structure.