WHICH TECHNOLOGY SKILL PAYS MORE?
Technology has penetrated every sphere of life, big and small and almost every single human today relies on it in some way or the other. This is the reason why conventional high paying professions had to humbly make way for Software development, Software Design, Data Governance, Website/Mobile Development, Instructional Design, Technological R&D etc. The nerds had officially arrived and they'd be here for a very long time. The IT industry, in its perpetually evolving nature seeks skilled personnel that would eventually become cogs in its huge wheel. These personnel however, always need to keep updating themselves and learn more to avoid becoming fossils. With this thought in mind, we had set out on the task of finding out which technological skill is paid the most.
This article presents the data collected from surveys conducted by StackOverflow and IT Recruiters from multiple staffing agencies. According to the report, more than 25000 developers participated in answering the question of which technological skill was highly paid.
Take a look at the average salary of a 2 years experienced developer: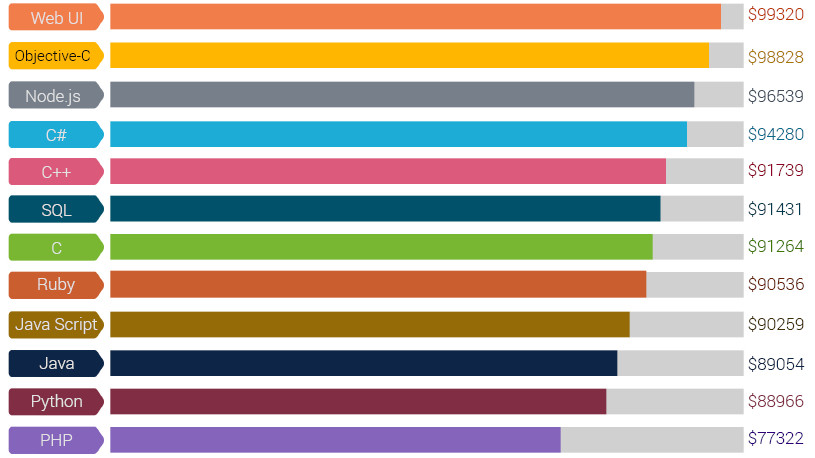 Web UI topped the list with an average potential annual income of a little under $ 99,320 per annum. It is worth mentioning here that JavaScript, a technology that has been around for two decades, makes the list grossing almost $90,000 a year. This technology's effectiveness and user-friendliness is expounded by the fact that despite stiff competition and copious emergence of new development technologies, it has still held its ground and remains as one of the top paid technologies in the world.
According to industry experts, developers possessing expertise in niche technologies are those that shall be at the top of the pay pyramid. It goes without saying that in this day and age where competition has become so cut-throat that only the fittest survive and only the fittest among these fittest become leader.
The survey also has good news for those who wish to expand their inventory of skills and want to know where the really big money lies.
TOP PAYING TECHNOLOGIES

As above mentioned technologies are still an emerging phenomenon, industry stalwarts are willing to pay huge salaries to those proficient in these technologies.
COMPENSATION BY REMOTE STATUS
Freelancers have good reason to rejoice because this survey tells us that those who freelance professionally/fulltime, earn more than 40% compared to those who don't. Being a freelancer has its own perks and advantages. It allows one to learn a lot, as there's nobody to go and seek assistance from, mistakes and experience are the only two teachers and none can ever be better than them when it comes to imparting knowledge. It gives one the courage to experiment, take risks, explore avenues and aspects that those working for an organization will generally not have the liberty to.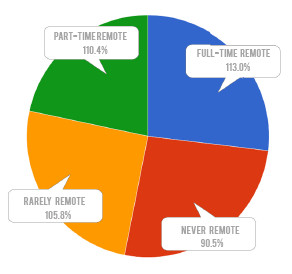 The market with its insatiable demand for talented UI developers is attracting those armed with the aforementioned technologies. Marketable skills in UI development include front-end web development, interactive media design, human-computer interaction, usability testing, mobile development, graphic design and team-centric soft skills, such as effective interpersonal communication, leadership and project management. Mastering any and preferably many of these technologies will ensure that you stand out in the crowd, create a niche brand of your own and will make you a highly coveted developer that companies would vie each other for