Top methods for doing keyword research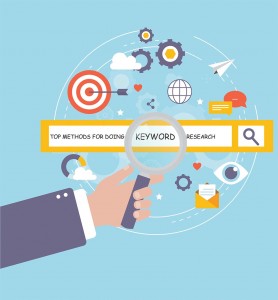 All content campaigns begin with the same thing "Keyword Research".
And there is a reason for this. Targeting keywords will lead to long-term and, probably, short-term organic search traffic for your website.
80% of SEOs and marketers do keyword research in a wrong manner. They plug in a main keyword into Google's Keyword Planner, download the results, and then start sorting through them in a spreadsheet.
But the fact is that, thousands of other marketers and SEOs have already searched that exact same keyword. Unless the user is very fortunate, he/she won't find anything similar to a low-competition keyword to target.
Now, if you have a site with the authority of Quick Sprout that is not a big deal. But if the user is working with a less authoritative domain, or a brand new one, then the user need to find realistic keywords to rank for.
The keyword planner only shows a very small portion of keywords which the user can target. If you can find hidden keywords that have a large search volume, but less competition, the organic search traffic will grow rapidly.
In this article we are going to walk you through some of the modern keyword research methods that you can use to uncover keywords that have not been targeted by hundreds or thousands of your competitors.
Focus on topics, not just keywords
Over the years, Google have implemented a series of algorithm changes and websites that exclusively rely on the old-school keyword strategy took huge hits. The global SEO community believes that an effective keyword research is now an amalgamation of the old school way and a new school strategy called 'concept-based targeting'. The classic way of selecting keywords rely on search volume, while the new school concept emphases on topics and search intent.
For instance:
Old-school method
1. Best electric kettle
2. Electric kettle on sale
Modern method
1. What to look for in an electric kettle
2. How to choose an electric kettle
A combination of both techniques will produce better traffic results. The result of having keywords based on search intent with the keywords based on search volume benefits both the search engine and the user.
Use a reliable keyword research tool
Google Keyword Planner can be little scary for beginners. It is a go-to for SEO professionals but we suggest using a newer keyword tool called 'Ubersuggest'. It does the same job, but with more advantages and it has a beginner-friendly design.
Here is how to use Ubersuggest to kick start the best keyword research strategies. It will help the user to start mapping out the keywords fast:
1.Key in your 'seed keyword':
The user seed keyword is the base or foundation keyword for SEO. Let's say the user is a distributor of various types and prices of an electric cookers. Then, the user seed keyword is 'electric cooker'.
Using Ubersuggest, type in the 'seed keyword' and filter according to target geography and language. The tool will give its collected data from Google Keyword Planner and Google Suggest, which is very handy, because if the user is only using the former, it will only show the keywords from its database, and the user will have to open another tab to be able to see keywords from the latter.
Google's Voice Search and Natural Language Search:
One of the developments in Google search that SEO professionals are keeping an eye on is Google voice search and natural language search.
Voice searches make up 20% of mobile voice queries and natural language is taking over search queries. To meet the users evolving search engine use, Google was driven to produce answer boxes and Knowledge Graph panels.
For instance, before, people used to type 'best jasmine tea', but now it's as specific as 'Is there a jasmine tea shop near me?'
These question-based keyword searches are a vital addition to the users' keywords list. The user can group these into long-tail keywords for their SEO content marketing strategy.
Conclusion
Doing keyword research does not always have to be time-consuming and painful. Once the keywords sorted, the user will be in a better position to start creating quality content and marketing materials. Have you used any of these strategies before in your keyword research strategies? Which one worked best for you? Let us know!