How to identify the mobile scams?
In today's world, much of Internet's traffic is from mobile devices. This makes mobile users just as much of a target as computer users. Mobile scams and malware are on the rise, and scammers are budding to get smarter at tricking the user into giving up the user's data. Explore the different types of mobile scams below and the best ways to identify them and keep your data safe.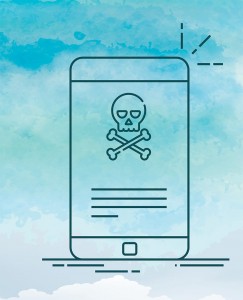 SOCIAL MEDIA SCAM
If you are on Twitter, Facebook, and other social media sites you know how annoying it is to be followed by a confused name with zero followers, then receive a tweet with little more than a link. Facebook is full of fake profiles, some of which have acquitted intentions, but most are there to provide fake Likes on demand – or to spam genuine users with phishing links. However, never click on a link sent by an unfamiliar person. Even if it seems harmless enough at the time, you could end up either giving your valuable personal details to a criminal or in worse scenario have malware inserted onto your mobile.
SMISHING
Same old-fashioned methods are applied over SMS. User's will get a message from unknown numbers influencing the user to reply to a number or to click on a link and open it in the user's phone browser. This might likely insert malware onto the user's phone or alerts the scammers to the fact that the number is active and worth targeting again.
These scams can present themselves in many forms. For instance, misleading offers such as "free" ringtones, lotteries offer, and much more. There are few ways scammers can get the user with ringtone scams. Sometimes those "free" ringtones are an actual subscription service, and if the user's respond he/she may unknowingly have signed up for the service. Other times, they come embedded with malware.
SMS phishing or Smishing will use some scary tactic to get a quick reply without much time to think about the action. When in the form of a notice from a bank or financial institution, the phisher requests immediate action or the user's account will be closed. If the user feels that his/her accounts are in danger, check for the company's customer service phone number online and call them to verify the text.
CLONING
Scanners will read the user's cell phone identity, including the number and its unique serial number, then they program another phone with the same details and make calls at the user's expense.
VOTING WITH PHONE
People will receive text messages or recorded messages offering them the chance to cast their vote through phone, simply by pressing a key for each of the candidates.
This is one trick targeting the voters of one political persuasion or another, to stop the voters from actually casting their vote for real.
SINGLE RING SCAMS
Scammers will call once and end up the call, with the objective of tempting the user to call back to that number. These numbers can be high toll lines, and by calling them the user might end up paying a premium rate for the phone call.